The Very Sleepy Sloth
Written by Andrew Murray
Illustrated by Jack Tickle
Reviewed by Angelo A. (age 5)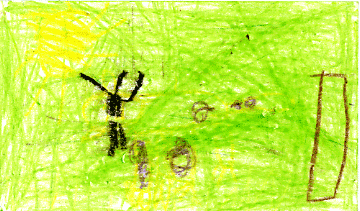 There are so many animals in this book! The animals are all busy working. The tiger was working on being fast and the elephant was working on his strength. The kangaroo was working on the trampoline. The monkey was busy swinging. The sleepy sloth was just sleeping, and the other animals wanted him to work, too. The sloth made them try to do each other's work. The kangaroo wanted the elephant to try the trampoline, and the elephant fell down! The cheetah tried to swing like the monkey. They were all trying to do what they are not supposed to do, and it was all the sloth's fault!
My favorite part of this book is the picture of the cheetah on the treadmill. I love cheetah's because they are fast. I like the pictures in the book because animals are the coolest! The book made me laugh and made me happy because the animals were all switching places.
My friends in kindergarten would like this book because of the funny elephant sweating and breaking the trampoline!
(dictated by Angelo A.)