The Hallo Wiener
Written by Dav Pilkey
Illustrated by Dav Pilkey
Reviewed by Hunter P. (age 4)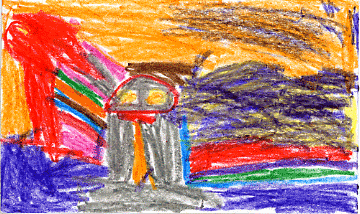 This book is about a long wiener dog. The other dogs all made fun of the wiener dog because he looked so funny. This made the wiener dog both mad and sad. His mom was even mean! When Halloween came, his mom gave him a hot dog costume. He said "Oh no! A hot dog!" But, he tried it out, and his friends laughed and he didn't get any candy. The dogs went to a cemetary and were afraid of a monster. It looked scary! But, the wiener dog saved the day when he tore up the monster costume and saved the other dogs who had jumped in the lake.
My favorite part of this book is when the wiener dog finally got candy! I also liked it when the wiener dog bit the monster. I loved the wiener dog because he gave the other dogs a ride on his back and saved them, even though they had been mean to him. The pictures in this book are scary, funny and cool.
I think my friend, Gary, would like to read this book because of the funny part when the dog bit the monster.
(dictated by Hunter P.)