Click, Clack, Moo Cows that Type
Written by Doreen Cronin
Illustrated by Betsy Lewin
Reviewed by Rilye T. (age 5)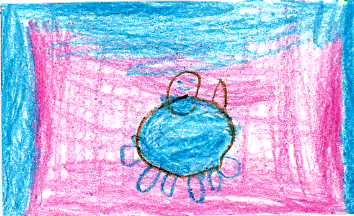 This is a funny book about Farmer Brown. He hears "click, clack, moo" on his farm and it is the cows typing notes! The cows want electric blankets, and they tell the farmer "no more milk" until they get their blankets. The chickens then leave a note and say "no eggs" until they get blankets, too. At the end, it is funny when the ducks get the typewriter!
This is a funny book because the animals are writing notes! There is a very funny picture at the end you will like. I really liked seeing the chickens and the cows with blankets. It made me think of our field trip to the fair when we saw chickens and cows.
I think other kindergarteners will like this book, because the pictures are so funny of cows and chickens with blankets! I think my sister would like this book, too, because of the funny duck at the end who takes a dive!
(dictated by Rilye T.)