The Rainbow Fish
Written by Marcus Pfister
Illustrated by Marcus Pfister
Reviewed by Naskely R. (age 7) & Christian F. (age 7)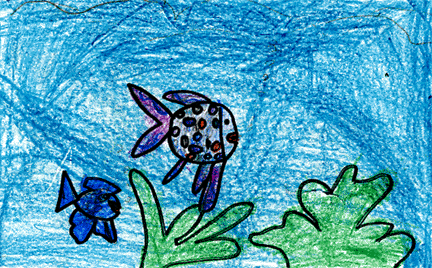 This book is about a fish who has no friends. He is a special fish because he has rainbow scales that sparkle in the water.
The rainbow fish was very beautiful. The other fish in the sea wanted one of his scales because they liked how they looked. He did not share his scales. The fish did not play with him because he did not share. He met an octopus who told him to share. He shared his scales and had many friends. We liked this book because we share our toys during our special recess on Friday. If we don't share we don't have friends and it is not fun to play without friends. The illustrations are all underwater. Even the words are underwater. The scales of the rainbow fish look like they are made with glitter.
We liked this book because it reminds you to share. You should read this book if you want to learn how to share.