Go, Dog Go!
Written by P.D. Eastman
Illustrated by P.D. Eastman
Reviewed by Valeria C. (age 7) & Christina C. (age 7)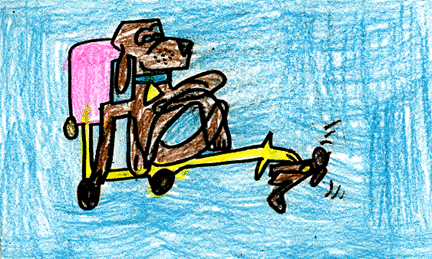 This story is about opposites. The main character is a dog. He goes to many places. He meets many dogs.
The book tells about opposites. Like hello and good bye. Go and stop. Under and over. The dog is having fun everywhere he goes. Our favorite part is at the end of the book. The dog sees a gigantic tree with a ladder that goes to the top. He wonders what is at the top. So he climbs the ladder and finds out there is a lot of dogs having a party on top of the tree. There is a cake and dogs doing lots of fun things. You will have to read the book to find out what the dogs are doing at the party. The illustrations and the writing remind us of a Dr. Suess book. We thought it was a book by Dr. Suess.
If you like going places you should read this book. If you want to learn about opposites this is a really good book. We learned a lot! If you like to read Dr. Suess books then you will like to read this book.