The True Confessions of Charlotte Doyle
Written by Avi
Reviewed by Chelsea A. (age 10)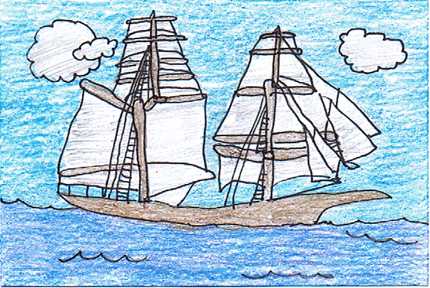 This story is about a 13 year old girl who is traveling on a ship called the Seahawk. The ship is racing the Sea Raven from Boston, Massachusetts going south around South America and then north to California and back. There is a crazy captain called Captain Andrew Jaggery. There is also a mystery man who is killing people on the ship and even worse things. Charlotte doesn't fit in with the rest of the crew. Do you know who the mystery man is? Will Charlotte change to fit in with the rest of the guys? To find out read The True Confessions of Charlotte Doyle.
I like this book because it has an interesting taste of its own in the way Charlotte tries to fit in with the rest of the crew. It also has all sorts of funny characters. For example, Captain Andrew Jaggery is always mad and has a red face. Mr. Keetch spies on Charlotte all the time but soon something is made between them. Mr. Jaggery reminds me of a mean bully at school because she always yells just like Captain Jaggery.
This book won the Newberry Honor Award for the best book of the year in 1940 when it was published.
I recommend this book because it is mysterious and funny. If you like spooky and strange stories this is the book for you. I think this story is good for girls and boys ages 9 and up because the boys might like sailing and the girls might like Charlotte. Read this dangerous and daring story.