Kung Fu Pigs: Hostages of the Jade Wolf
Written by Keith Brumpton
Illustrated by Keith Brumpton
Reviewed by Garrett M. (age 5)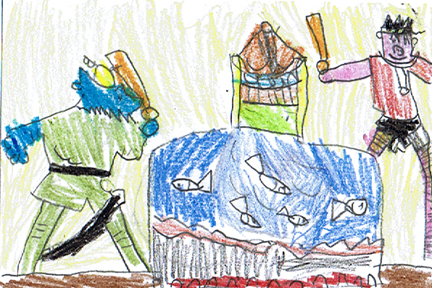 This story is about Kung Fu Pigs named Rinki, Stinki, and Dinki. The innkeeper asked Rinki to find his wife and son because the bad Jade Wolf took them as hostages. Stinki, the samurai pig, helped Rinki when bandits of the Jade Wolf attacked Rinki. Together will Rinki, Stinki, and Dinki find the innkeeper's family and defeat the bandits? Read this story to find out the special reward the pigs receive from the Emperor of the Pork-i Kingdom.
I like this book because it has a lot of action like fighting. Stinki is my favorite character because he is a samurai pig. He helped Rinki tons of times when Rinki fell down. My favorite part is when the bad wolves jump off the statues because they fall and knock the other bad guys down.
I recommend this book because it has action and it doesn't make anybody feel scared. Children 5 years and up would like this book because it is funny and has martial arts. It has a good ending too!