The Statue of Liberty
Written by Tristan Bayar Binns
Reviewed by Zuly C. (age 9)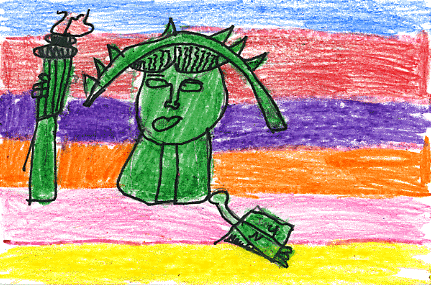 Wow, the Statue of Liberty has been standing for more than 100 years! Did you know that it was a gift? The Statue of Liberty is in New York and many people visit it everyday throughout the year. It took two years to build the Statue of Liberty. It cost 87 million dollars to build it! The Statue of Liberty is a symbol of the freedom and justice we have in the United States. I learned that it is a very important American symbol.
My opinion is that this is a very informational book. If you want to learn everything there is to know about the Statue of Liberty then this book is for you. The photos are incredible. The publisher used black and white photos and also colored ones. I like the way the author writes the book because it is easy to read and understand. The author has written other books about other United States symbols such as the Bald Eagle, the U.S. flag, the White House, the U.S. Capitol, etc.
I recommend that you read this book, because you will learn more about the Statue of Liberty than your classmates. Second and third graders should read it because they need to know about the Statue of Liberty in second and in third grade and you will impress your teacher. Teachers should read it to their students too.