Andro, This is Crazy
Written by Jack Lawson
Illustrated by B. Perry White
Reviewed by Sean V. (age 8)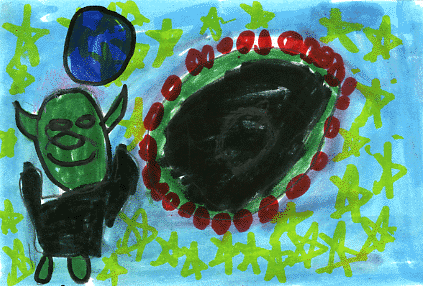 Things were not going well for Bean. He was not good at basketball and his grades were really bad. He was not like Hennerly. Hennerly was good at everything and he made fun of Bean. One day things began to change. It all started with a glow in the sky. Bean couldn't believe it! An alien named Andro had landed in a spaceship and he was talking to him. The kids at school were going to think he was crazy. Is he here to help Bean or will he make things worse?
Andro is a very interesting character. He is very smart and knows things because he lives in the future. He teaches Bean many important things like being polite. The illustrations in the book are black and white. There are not too many pictures because it is a chapter book. The pictures show what Bean and Andro look like.
I would recommend this book to second or third graders who like to read fiction. You might be interested in this book if you like to read about happy endings. Bean has bad luck at the beginning of the story but things turn around thanks to his new friend, Andro.