Mr. Popper's Penguins
Written by Richard and Florence Atwater
Illustrated by Robert Lawson
Reviewed by Tyan T. (age 8)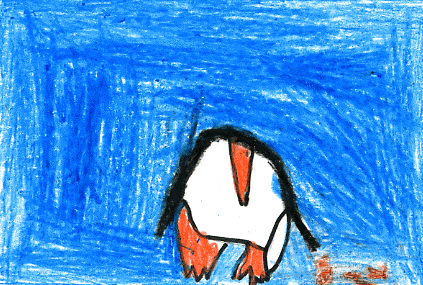 Mr. Popper likes to dream about far away places. He is just an ordinary painter until one day his life changes. He had written a letter to Admiral Drake, a great explorer of the Antarctic. Admiral Drake likes his letter so much that he sends him a penguin. Mr. Popper names his new penguin, Captain Cook. Captain Cook becomes lonely and needs a friend. Before long Mr. Popper has twelve penguins to take care of. Read about all the adventures of the penguins and Mr.Popper in this book.
This book reminds me of the time I went to Seaworld and touched a penguin. I know this is a fiction book because penguins should not live in a house. I really didn't care for the part of the book when Mr. Popper was thrown in jail. That did not seem fair. My favorite part is when the police and firefighters put their hats on the penguins. That would be funny to see.
I would recommend this book to students that like chapter books with just a few pictures. You would like this book if you like to read about animals that are smart and can do tricks. You may also like this book if you like to read stories about dreams that come true.