The Bear Who Didn't Like Honey
Written by Barbara Maitland
Illustrated by Odilon Moraes
Reviewed by Louise B. (age 7)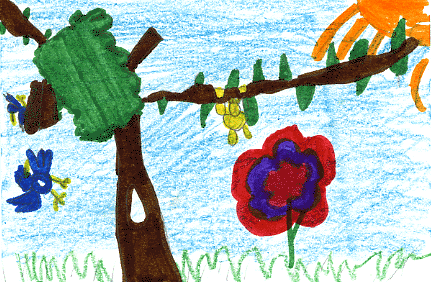 This book is about a bear who didn't like honey. The bear's brothers and sisters ate lots of honey. The bear felt left out. So, he left home. He met the Great Bear. He told the Great Bear that he was scared to try the honey. The Great Bear said to try it. So, little bear did. Then... well, you just have to read to find out.
I like the story! It is funny and silly because it's about a bear who doesn't like honey and ALL bears like honey. I really like the illustrations. They are very good. The story reminds me of when I was in my bear suit for Halloween when I was little.
I recommend this book to other kids because it is funny! The funniest part is when he tries the honey. First graders and second graders can read it because it's not too hard. Kids who like funny books should read this book.