The Three Little Pigs (retold)
Written by James Marshall
Illustrated by James Marshall
Reviewed by A.S. (age 7) & R.H. (age 6)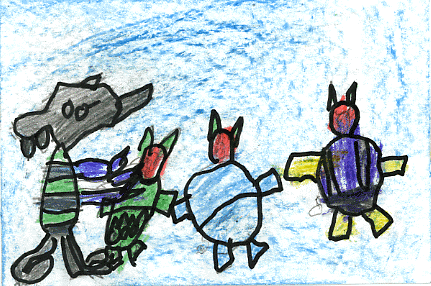 This book is about three little pigs and a wolf. The wolf was trying to blow the pigs' houses down. He was trying to eat them for dinner. One of the pigs was very smart. He tricked the wolf because he told him when he was going to be somewhere but then he would go at a different time. The end will surprise you, it isn't like all the other stories with the three little pigs.
I (A.S.) liked this story because it had a lot of details and the pictures were nice and neat. I (R.H.) liked that the book had pigs in it that were very smart. We have heard this story before but we liked how this one is a little bit different.
We think everyone should read this book. People that want to read a pig story that is funny should read it for sure. It will make you laugh.