BFG
Written by Roald Dahl
Reviewed by Alastair L. (age 8)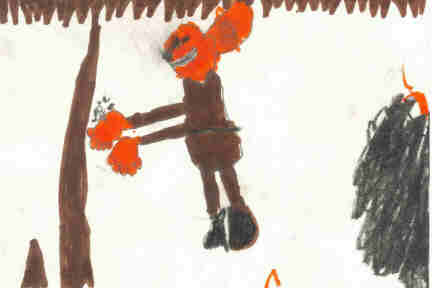 Sophie is an orphan girl in England who finds herself awake in the witching hour. She has been told the witching hour is when all the dark things come out from hiding. Such rubbish! The moon is too bright for her to get to sleep so she comes to the window to close the curtains when a giant hand reaches in and snatches her up. Sophie is terrified but her adventure has just begun. Sophie finds out that the thing that has captured her is actually a giant that is named the Big Friendly Giant(BFG). Please read this book and you can encounter the adventures of Sophie and the BFG.
I think this book is really good. I liked this book because you'll find the BFG always uses incorrect grammar and funny words like scrumplet and whizzpopping. My favorite character is BFG because he is funny. The pictures in this book are black and white so don't be expecting a colorful book. But the illustrations are funny, so who cares if they are not in color!!
I recommend this book to people who like wild and funny humor. If you like this book, maybe you should read some of the other Roald Dahl books.
Dirty Beasts The Giraffe and the Pelly and Me The Enormous Crocodile Revolting Rhymes The Twits Danny the Champion of the World The Magic Finger George's Marvelous Medicine Matilda Fantastic Mr. Fox James & the Giant Peach Boy: a Tale of Childhood The Witches Charlie and the Chocolate Factory Charlie and the Great Glass Elevator The Wonderful Story of Henry Sugar and Six More