Joseph had a Little Overcoat
Written by Simms Taback
Reviewed by Starr H. (age 7)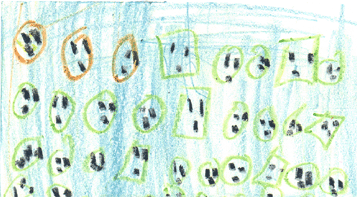 Joseph had an old overcoat, and it got old and worn. It kept getting more old and worn, so he kept changing the coat into other things to wear. He made everything he could think of, like a tie, a vest, and a button. You can think of what?s going to happen next because on each page there is a cutout in the shape of the clothes that he is going to make next. The illustrations are good. Some of the pictures are cut out of a magazine or another book.
I like the story because the man lost everything. I like the book because sometimes I lose everything. My favorite part is when he makes a vest because sometimes boys wear them at a restaurant. I also like when Joseph made a book at the end. He made a book because he couldn?t make anything else from his coat.
My friend Jewel should see this book because it?s funny and she will like the cutout shapes. On the back cover, you will see a lot of colored buttons that my sister Lucy can look at. My classmates can see it too. They will like the book because the pictures are funny.