How Many Veggies?
Written by Phil Vischer
Illustrated by Phil Vischer
Reviewed by Ariel (age 7)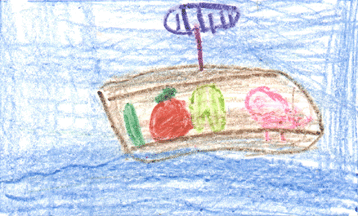 This book is about Bob the Tomato taking a trip. At first he thinks it?s him only on the ship. His friend Larry the Cucumber wants to join him and then there are two. Then Junior and Mr. Nezzer want to come too. But Junior says there are two many people, and they need someone in the air. So they get the gourd Jerry to sit in the chair. But Jerry misses his brother so he wants Jimmy to come along. Then Percy wants to come too. But then they want a parrot. So then Laura the Carrot with her parrot Harry comes along and then there are eight. But then the boat is sinking and they need to bail. So Archie the asparagus joins them and Goliath the Pickle want to get on the ship. Now there are ten veggies.
I love veggies. I think that the book was funny when they sink in the water because the boat was too heavy. Then the boat had a hole in the bottom. I didn?t like the tomato because he drowned the boat because he was too big. I liked the illustrations because when I grow up I am going to be an artist. The cucumber and the pickle remind me of when I eat a salad and a sandwich with pickles in it. This isn?t like any other book I?ve read. The book made me feel good because it reminds me of vegetables.
I think my mother would like to read this book and my brother, grandma and my cousins. The readers should be in kindergarten to read this book.