The Bears' Autumn
Written by Keizaburo Tejima
Reviewed by Zaritzialee C. (age 7) & Itzel H. (age 7)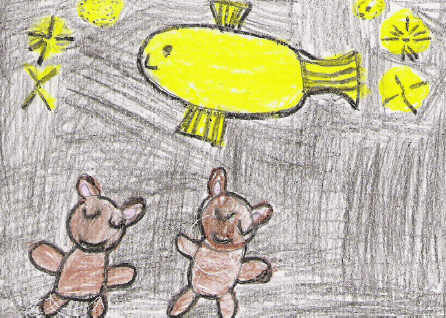 It?s autumn. There are two bears. The bears are really hungry because they will sleep all winter. The little bear can climb a tree higher than the mother bear. The little bear can see a river. The little bear and mommy watch the river for fish. The baby bear asks if the fish will come and the mommy bear tells him that they will come. The baby bear and the mom see the salmon come. The mom jumps and catches a fish. Baby bear wants to catch a fish. He goes to the water and then jumps in. Did baby bear catch the fish? Read the story to find out.
Itzel liked the book because it is funny when the little bear thinks the moon is a fish. The book made her feel happy when the baby bear was able to catch the fish. Her favorite part is when the baby bear climbed the tree and looked at the river because the picture is so colorful and has lots of big trees.
Zaritzialee thought the story was funny because the baby bear can climb higher than the mommy bear. The book made her feel smarter because she learned about bears. When the baby bear climbed the tree, she thought about climbing trees, too. Her favorite part is when the baby bear thought he saw a big fish but it was something else.
Other people should read this book because you can learn about bears and it can make you happy. A big person, like 7-9 years old, would like this book. Moms and dads can read it or a big sister, too. People who like bears will like this book. We learn what bears do. They can climb trees and eat fish. It helps you read because the baby bear tries and tries again to do things. We learn to try and try again and not stop.