Sideways Stories from Wayside School
Written by Louis Sachar
Illustrated by Julie Brinklo
Reviewed by Daniel D. (age 10)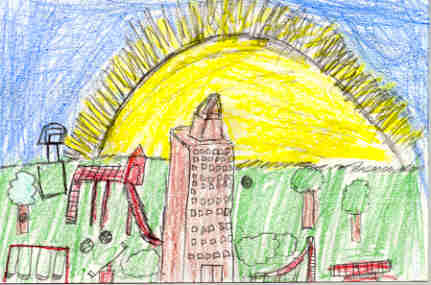 This book includes 30 different stories about one class at Wayside school. Some of the characters in Wayside School include Mrs. Gorf, Mrs. Jewels, Louis, Joe, Sharie, Todd, Bebe, Calvin, three Erics, Myron, Maurecia, Paul, Dana, Jason, Sammy, Deedee, D.J, John, Leslie, and Terrance. The class is located on the top story of a 30-story building with one class on each floor. Each story is about a different character or strange event.
I like this book because it?s so funny and has tons of weird stories about kids and two teachers. An example of a weird event is when Mrs. Jewels threw a new computer out the 30-story window to show the students how gravity worked. My favorite part was when Mrs. Gorf turned all the students into apples. Some of the kids remind me of my classmates! I sometimes found myself laughing outloud when I read this book. The things that happen in class are the opposite of what happens in my own classroom.
I recommend this book to people that like to read weird and humorous stories. If you want to know more about the book then read it.