Alligator Baby
Written by Robert Munsch
Illustrated by Michael Marchentko
Reviewed by Johnathan H. (age 8)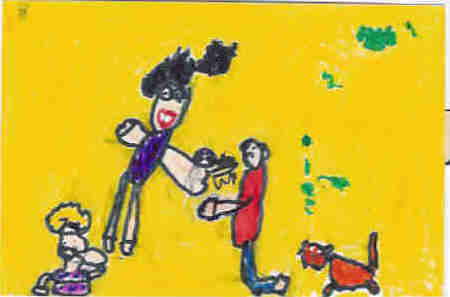 Kristen?s mom was having a baby in the middle of the night. Her parents drove off to the hospital, but ended up at the zoo. When her parents got home they asked Kristen if she wanted to see her new baby brother. She lifted up the blanket. It was an alligator. Kristen said, ?That?s not a people's baby.? So her parents went back to get her baby brother. Each time they brought back a different animal. Guess what Kristen does to get her baby brother back?
I felt funny inside like someone was tickling me when the alligator bit the dad?s nose. I would like it if there was an Alligator Baby 2. I liked Kristen because she told her parents they brought the wrong kind of baby home. I liked the illustrations because they told me more about the story.
I recommend this book to kids who like funny stories about animals. You should read this book because there are so many funny parts that will make you laugh.