Lily's Purple Plastic Purse
Written by Kevin Henkes
Reviewed by Blythe C. (age 8)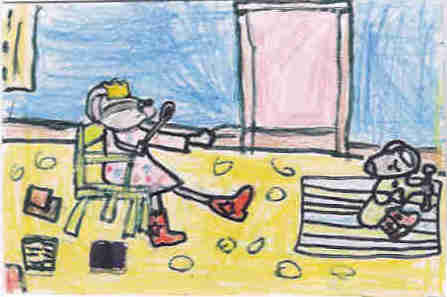 Lilly loves to go to school. Lilly was all googoo about Mr. Slinger (her teacher). She thought he was so handsome. One day she decided to bring her purple plastic purse and some sunglasses and some money to school. She wanted to show her purse, but Mr. Slinger told Lilly, ?Not now.? She became sad, angry, and furious. Then she drew a nasty picture of Mr. Slinger. She put it in his book bag. But Mr. Slinger put a nice note and some tasty snacks in her purple plastic purse. Read to find out if Lilly will be good the next day at school.
My favorite illustration is when Mr. Slinger and Lilly were dancing because it made me laugh and giggle. I liked this book because it was really funny, like when the dad was baking snacks and the mom was writing a note because it seemed different to me. It made me wonder what would happen if I brought a purple plastic purse to school. Would I get in trouble?
I recommend this book because it is funny and teaches you a lesson. You can show what you bring to school, but not when the teacher is talking. Kids who go to school will want to read this book.