The Iron Ring
Written by Lloyd Alexander
Illustrated by Claudia Carlson
Reviewed by Blake B. (age 11)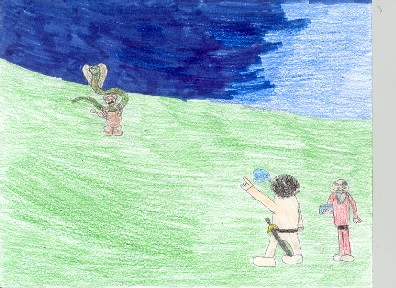 This book is about a young king named Tamar. Tamar is greeted by a powerful king late at night. They play a dice game and Tamar loses. He is bound by an iron ring and his honor as a King. Now Tamar must travel across the map to Maphia to meet this great king. On this trip Tamar meets many new friends such as Hashcat, Meeri, Ashwraw.
I like this book because there is always something exciting going on throughout the story. My favorite part is the battle at Ranapura. It is funny when Nahusha(nah-hoo-sha) lets out all his caged animals to attack Ashwraw's army but instead they turned and attacked him. I also liked this book because it was well written and it had a lot of difficult vocabulary words that made it more interesting. As I read this book I thought about how fun it would be to live during the same time as Tamar.
I recommend this book to all because it deals with all subjects such as love, action, mystery, and a little tragedy. Any age person should read this wonderful book.