Arthur's First Sleepover
Written by Marc Brown
Illustrated by Marc Brown
Reviewed by Michael B. (age 9)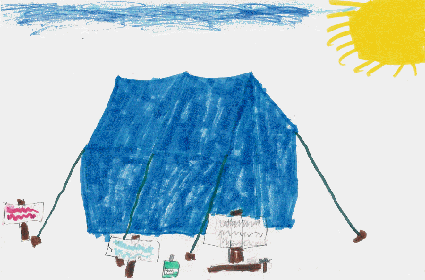 In the book, Arthur's First Sleepover, Arthur is having a sleepover party. Arthur's dad looks in the newspaper and sees an article about a spaceship. Arthur's sister scares Arthur and his friends when they are in their tent having a sleepover. They hear footsteps coming towards them. They were really scared but it turned out to be the pizza delivery man. When they saw flashing lights they got so scared the tent collapsed when they were trying to get out. Arthur figured out it was his sister, D.W., trying to scare them. Arthur pays her back by making a fake alien and scaring D.W.
I really like this book because it is funny when they run into a tree. My favorite part is when Arthur said he knows that an alien came from planet D.W. It is really funny because he says it in a funny voice. My favorite character is Arthur because he is always joking around.
I recommend this book to first graders and anyone who likes Arthur books.