Arthur Rocks with Binky
Written by Marc Brown
Illustrated by Marc Brown
Reviewed by Leslie G. (age 8)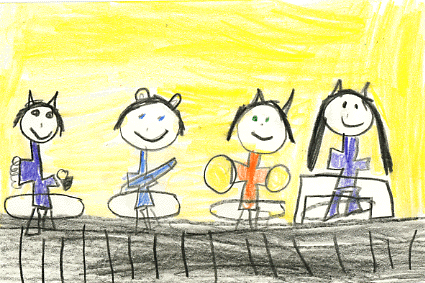 Arthur Rocks with Binky is about Arthur and the rock group called Binky. They go on stage and sing. Arthur and his friends love their music. But Binky wasn't real and Arthur and his friends thought they were real. They were actually holograms.
My favorite part was when Arthur touched one of the members of Binky. She wasn't real. Arthur got frightened. She was a hologram and Arthur's hand went right through her! I liked the pictures very much. The illustrations are very humorous. My favorite character in this story was Arthur. He loved the rock group Binkey and was so excited to go to their concert. The look on his face made me really laugh when he found out that Binkey was not real.
I would recommend this book to all kids that like to watch the Arthur show. Also to children that like to read chapter books, because Arthur Rocks with Binky is a chapter book.