How To Eat Fried Worms
Written by Thomas Rockwell
Illustrated by Emily McCully
Reviewed by Kash C. (age 11)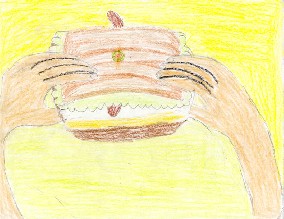 In this disgusting, but outrageously hilarious book, Billy is in a bet for fifty dollars. But what must he do? Eat fifteen worms in fifteen days, one worm a day. At first it is just about swallowing them, but then it becomes the question of if he can eat them in time? Find out when you read How to Eat Fried Worms!
My favorite part was when he thought he ate the last worm. It turns out it was a worm made of beans. He figures it out and eats the last worm to win the bet. The black and white pictures seem to be in movement. The illustrator shows the scenes perfectly. This book reminds me of Beetles, Lightly Toasted because they were conserving food by eating bugs in different recipes. This book has people eating bugs just like them.
I recommend this book to readers who like books that you can't put down. You must enjoy reading books about boys eating worms and waking up everyone in the middle of the night. If this is you, then this is the book for you.