Vampires Don't Wear Polka Dots
Written by Debbie Dadey
Illustrated by John Steven Gurney
Reviewed by Deyssi R. (age 8)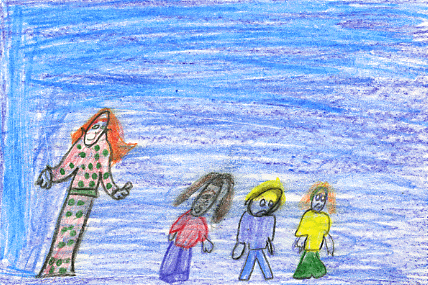 This story is about a group of kids that are trying to find out if their teacher is a vampire or not. The characters are Liza, Howie, Mrs. Jeepers, Melody, and Eddie. In the middle of the story the kids think she is a vampire because she moved into the Clancy house. The Clancy house is a house that was very old. It was also so creepy!
My favorite part of the story was when the group of kids went down the oak tree and said to Eddie, "If you don't find out what is in Mrs. Jeepers basement, you are a chicken!" I thought that was funny because if you turn into a chicken you might smell bad! I liked this book because it was fun to read! My favorite characters are Lisa, Melody and Howie because they found out the mystery. This book made me wonder about my pre-K teacher. She was very mean and maybe she was a vampire!
I recommend this book to children that like mysteries. I also recommend this book to children that like the Bailey School Kids series of books.