Sheila Rae, The Brave
Written by Kevin Henkes
Illustrated by Kevin Henkes
Reviewed by Amarilis C. (age 8)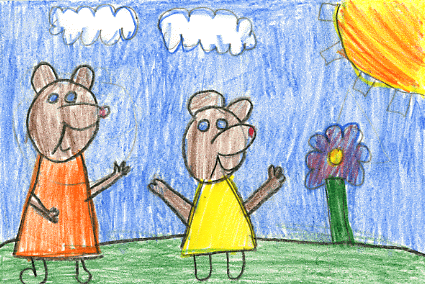 The story is about a mouse named Sheila. She was not scared of anything. Sheila showed her sister that she was not scared of anything. Not even the spider in the kitchen. One day her sister hid in a tree. Sheila got scared that something happened to her. Her sister finally called out to Sheila to let her know where she was. Sheila was not so brave after all.
My favorite part was when Sheila's sister hid in the tree and Sheila got scared. I liked this part because she said she wasn't scared, but she really was. I thought the book was funny because it had many funny pictures. I also thought the pictures were colorful. Sheila's sister reminds me of my little cousin who is three years old because she tricks people just like Sheila's sister.
I recommend this book to children who are scared. Maybe it will help them learn to be brave.