Ralph S. Mouse
Written by Beverly Cleary
Illustrated by Paul O. Zelinsky
Reviewed by Maranda C. (age 8)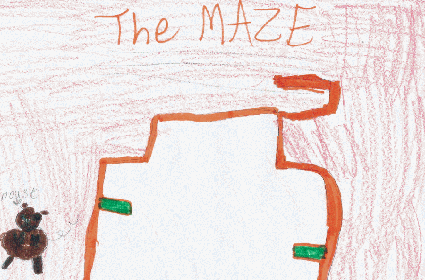 This book is about a mouse named Ralph. Ralph has a motorcycle. Ralph's relatives were bothering Ralph. They wanted to ride his motorcycle. Ryan brought Ralph to school. Ralph had to go through a maze at school to get peanut butter. He runs the make because the children make him.
I liked the book because it has a mouse in it. Also I like it because the mouse goes into a maze to get peanut butter.
My favorite part of this book is that Ralph the mouse can talk. My other favorite part is when Ralph's motorcycle gets dirty because he spins out in the mud. My next favorite part is when Brad watches T.V. when he is on the couch.
My favorite character is Ryan. He likes Ralph and he likes watching T.V. from his couch.
I would recommend this book to people who are eight years and older. Kids who like Beverly Cleeary books would like this book too.