Old Yeller
Written by Fred Gipson
Reviewed by Meghan F. (age 11)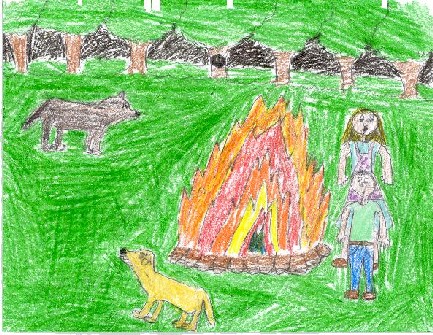 This book is about a boy whose father left and he becomes the man of the house. Then one day a dog comes up to the house. Travis, the boy, doesn't like it. But after a few days with the dog around, it becomes Travis' best friend. You will have to read the story to find out what happens to Old Yeller and Travis.
My favorite part is when Old Yeller fights to protect Travis, Travis' mother, and Travis' brother. Even though Old Yeller won the battle, he really lost in the end. To find out why, read this book. I drew this scene(above). Travis changed because at first he hated Old Yeller, but later he loved him! This book is similar to Where the Red Fern Grows because something terrible happens to the hero. I think the lesson of the story is not to judge something or someone before you get to know them.
I recommend this book to everybody who likes to read exciting books. People who like interesting and thrilling books should read this story. What might interest readers is how many times Old Yeller saves Travis and Little Arliss, Travis' little brother.