Goosebumps: Go Eat Worms!
Written by R. L. Stine
Reviewed by Ben M. (age 9)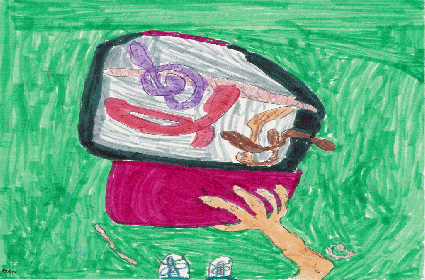 In Go Eat Worms a kid named Todd loves worms so much that he collects them. He puts them in his sister's hair and in other places.
One day, he chopped one worm in half to see what would happen. The front end kept moving. After that, all the worms seemed to be looking at him.
Then he started to find worms everywhere. He found them in his bed, his backpack, and even in his hat. Will he ever get rid of them?
I think this is a good book because it's gross and a little scary. It also has good descriptions.
This book is like a lot of other Goosebumps books because it's fun and exciting. It is also written by R.L. Stine like all the other Goosebumps books.
There are no illustrations except for the cover, which has a very, very good picture on it. The illustration is of an open binder with math problems on it. There are worms crawling all over it.
I recommend this book to any readers older than first graders who like scary, fun, and kind of gross books because this definitely is all three.