The Last of the Mohicans
Written by James Fenimore Cooper
Illustrated by Pablo Marcos Studio
Reviewed by Aaron M. (age 11)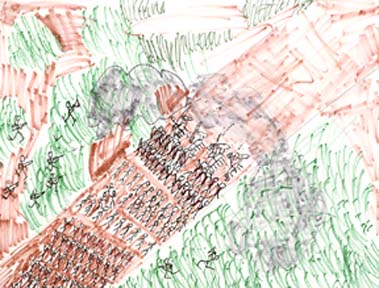 The Last of the Mohicans is about sad and gruesome deaths, and is written by the classic James Fenimore Cooper. One day Uncas, Alice Muro, and the bad guy Leonard Substill were taking the Munro sisters to their father?s fort. This book takes place when settlers began taking over Native American land in colonial times. It takes place in up state New York. There are many surprises that you will find out. I recommend this book to readers who like gruesome and sad scenes.
I thought the story was good, because it was exciting and adventurous. I liked Uncas, Hawkeye and Colonel Munro the best, because I think they are brave and courageous. I liked the illustrations, because they are in ink and not very detailed. There are several other books written by James Fennimore Cooper, such as Kidnapped And Mutiny On Board Hms Bounty. The Last of The Mohicans is not part of a series. It is the only one of its kind. I felt both scared and excited reading this book. The book made me wonder.
I recommend this book to others. I though this book was great, because there were a lot of good parts. I think an audience who like blood would like this book. I think you will enjoy the characters.