The Little Polar Bear and the Brave Hare
Written by Hans de Beer
Reviewed by Zach E. (age 8)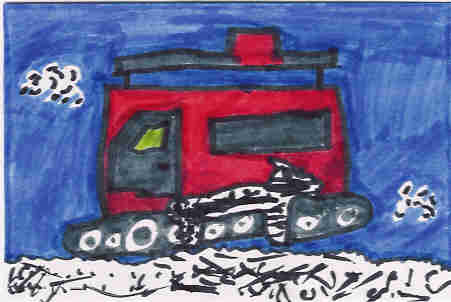 "Burrrr! It's cold at the bottom of the earth!"
This is a book about a little polar bear, Lars. Lars finds a hare, Hugo. Together they have an exciting adventure. On their adventure, they go beyond the family's boundary, across Antarctica, through the water. Read the book to find out how they get home.
I liked this book because of the personification. Personifications are when animals dress up and talk like humans. In real life, they cannot. It had an exciting adventure where they go to a research station in Antarctica and Lars was curious. That's how he gets into trouble. This book reminds me of when I got lost. I felt scared. Hugo got scared when a supply car went by Lars. Hugo thought Lars would get killed. There were illustrations that were pretty good because the illustrator had lots of talent. They showed what the writer was talking about because they had a lot of detail.
I recommend this book to people who get scared in an exciting adventure because then they might want to have their own adventure like Lars.