Because of Winn-Dixie
Written by Kate DiCamillo
Reviewed by Angelique H. (age 10)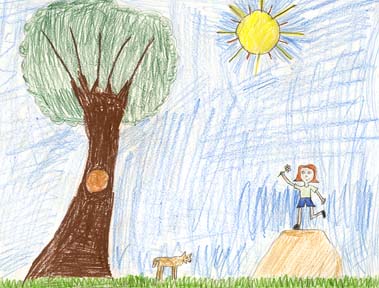 In the book Because of Winn-Dixie, a girl named India Opal Buloni finds a stray dog in a grocery store. She names him Winn-Dixie after the store. Opal and her dad, a preacher, have moved to Florida. Opal?s mother left them, which makes Opal feel sad and mad. Opal makes new friends because everyone she meets thinks Winn-Dixie is special. In each chapter, Winn-Dixie and Opal have new adventures.
I love this book, because to me this novel has sad moments and funny ones, too. I think it?s sad because Opal seems lonely at the beginning. Winn-Dixie is special to me, because I imagine that Winn-Dixie is strange-looking, but sweet. One of my favorite parts is when Winn-Dixie stays calm even when a parrot lands on his head. Both Opal and Winn-Dixie are really interesting characters to read about, because they get into so many adventures.
I would recommend this book because it is a funny story that has a lot of adventures and some sad moments.This is a good book for children 8 to 12 years old. I found most of the characters in the book strange and interesting.