Martin, the Warrior
Written by Brian Jacques
Reviewed by Rodion K. (age 10)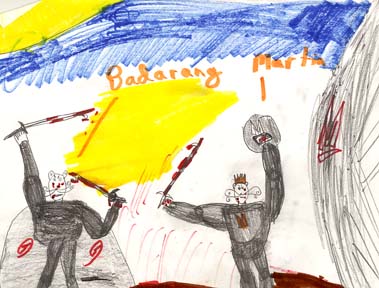 This story is about how one mouse, Martin, and a couple of his friends travel throughout their home, Mossflower. Then everybody is lost. Then finally after a long hard journey they set off to defeat the evil tyrant, Badarang. The biggest idea of the whole story was friendship not revenge. In this book the revenge results in death. This is the best book in the world. It has detail, animals, nature, and most of all friendship. It will warm your heart and make you cry all at the same time.
I loved this book because it was magical, showed feelings, friendship, and courage. My favorite part was when Badarang was slain by Martin. At the beginning it told that he must die because he killed, kept slaves, and enjoyed death. The only character that I liked was Brome, the healer, because he hated war all his life and healed instead of fighting. He was a mole. The pictures before each chapter symbolize epic scenes. They are done in black and white. It?s like other books in its series. It has everything similar to other books in its series. I felt very sad when I read it because so many animals die, especially everyone who wanted revenge. The story reminds me of my friends and how they understand and always try to help.
I definitely recommend Martin the Warrior because of the great story and the great suspense. It actually puts 2 stories into one. The audience should like the suspense and tragedy. The characters and the settings will attract the audience. Through everything you can tell that I love Martin the Warrior.