The Castle of Llyr
Written by Lloyd Alexander
Reviewed by Dominic C. (age 10)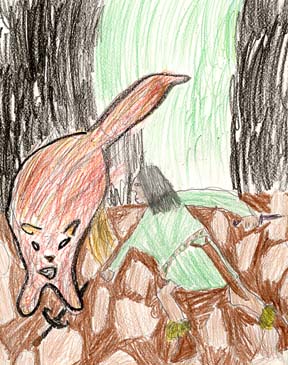 My book is The Castle of Llyr written by Lloyd Alexander. It?s about Elinowy, Taran, and Gurgi. Elinowy goes to Mona to study how to be a princess, since she is the princess of Llyr. Taran and Gurgi go to Mona where they meet Flewdur Flam (their friend). But there is a source of evil in the castle of Mona. Taran knows that Arwan is behind this, but if he finds Elinowy in the end, he might lose her forever.
This book is great. I think this book is really amazing. I really like the plot of the story. It is very exciting. The reason I liked it was because of how action-filled it was, and I just thought the plot was very steady and strong. My favorite part was when Llyan (the giant cat) falls in love with Flewdur Flam and his music. I liked it, because it was really funny how she just fell in love with him. She even saved their lives (you?ll find out in the end!) My favorite character was Taran. I liked him because of how gallant and caring he was, because he risked his life for many people. Taran reminded me of my brother because he?d risk his life for me, and he?s also very brave. I think that the Prince of Mona changed a lot, because at the start of the book he was very clumsy and irritating, but then by the end he is much wiser. There was one illustration but it was so descriptive and realistic. There?s something very unique about the book. All the words that he uses flow very smoothly and beautifully.
I would recommend this book to somebody who enjoys exciting and fun fantasies. I would recommend it, because I never got bored reading it. This is like no other book I?ve read. It?s great.