Jacob Have I Loved
Written by Katherine Paterson
Reviewed by Jason S. (age 9)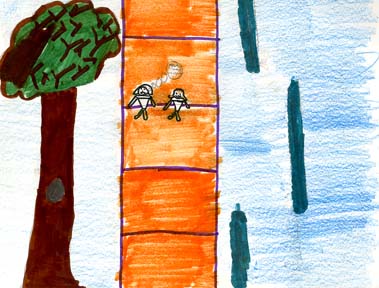 Jacob Have I Loved is a wonderful book. It is a very interesting story. The story begins with a mother who has two babies. One of the babies was born sick. The mother was so scared for the health of this baby that she leaves the other baby in a basket. The story goes on and everyone in the story cares more about Caroline (the sick baby) then Sara. Sara has always felt weird about it. Later on, Caroline gets married to Sara?s best friend. Further in the story, history repeats itself. The lesson you learn from the story is that if you don?t like something, don?t do it to other people. (A.K.A. golden rule).
I thought that the book was very exciting. I think the book is so interesting that it makes you want to read more and more along the way. I like this book because the author really describes what the book is about. You can even imagine yourself in all the characters? shoes?that?s how well the author describes the book. I had many favorite parts that I can?t choose just one. You would, too. One of my favorites is when Caroline gets married. I liked Sara a lot because she knew that her parents were more careful with Caroline, but she never gave up. She was very strong. She also never knew why Caroline was cared for so much? Although, there were no illustrations, you could picture it in your mind. It is a little like Bridge to Terabithia by Katherine Paterson, because they both have best friends. It reminds me of being with my brother and sister.
I would recommend this book to my friend, because it is very interesting, exciting and well-rounded. I think a reader that likes powerful books would like this story. I think it might interest people with the topic that Caroline gets attention and Sara does not.