Arthur's Computer Disaster
Written by Marc Brown
Illustrated by Marc Brown
Reviewed by Mazi S. (age 9), Amarilis C. (age 8)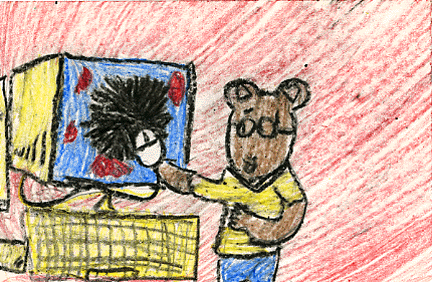 Arthur's Computer Disaster is a story about Arthur and his friend who play on the computer after Arthur's mom tells them not to. Arthur should have listened to his mom, but instead broke the computer!
We liked the book very much. We thought it was funny when Arthur and his family went to bed, but his mom stayed up and was busy playing on the computer with the very same game Arthur and his friend played with. Our favotite character was D.W. because she made us laugh. She reminds us of our little sisters who always try to get us into trouble. Our favorite part of the story was when Arthur's mother was playing on the computer all night. We thought that was really silly because she is a mom who was playing a game for kids!
We recommend this book to children who need to learn to be responsible and to children who might want to learn to use a computer.