Nate the Great and the Phony Clue
Written by Marjorie Weinman Sharmat
Illustrated by Marc Simont
Reviewed by Cori A. (age 8)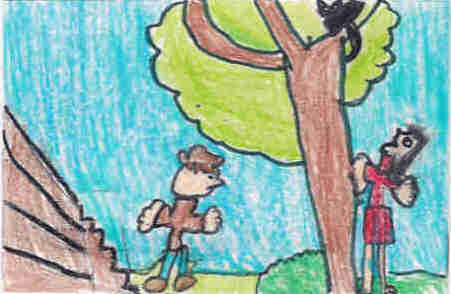 This book is about a great detective named Nate the Great, who went on a run for exercise. When he got back, there was a note on his doorstep. It said, ?VITA.? Nate did not know what it meant. He went to Rosamond?s house. Nate saw that there was a piece of paper in the tree too close to her cat, Big Hex. Nate took the paper out of the tree. This paper fit with the first note. "VITA" fit in ?invitation come to my house at three.? He still needed to find the missing piece of whose house he needed to go to. A boy named Finley dropped a piece of paper in the sewer to trick Nate. Find out if Nate finds the missing piece?
I think it was funny when Nate said, ?Then I am sunk,? because he said it in a sarcastic way. The character Big Hex is my favorite because he likes to spend the night in a tree. Sometimes my dog takes off with my Hello Kitty Slipper and I have to solve the case. I do not think I want to be friends with Finley because he was mean to Nate.
I recommend this book to boys and girls who like mysteries. I like this book because Nate the Great solved a difficult case.