Captain Underpants and the Big Bad Battle of the Bionic Booger Boy
Written by Dav Pilkey
Reviewed by Braden H. (age 9)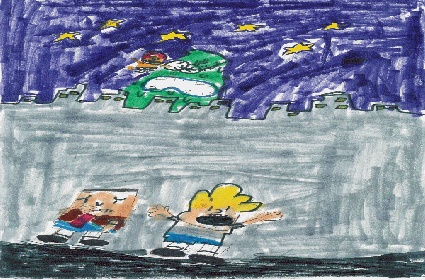 This book is about two boys and their principal, Mr. Krupp. Mr. Krupp is Captain Underpants because George and Harold hypnotized Mr. Krupp to be him. They fight Melvin who combines himself with a robot and boogers in the Combine-O-Tron 2000. The problem is that Melvin/robot/booger will destroy the earth.
I thought this book was very good because it was funny, had a lot of action, and was weird.
My favorite character is Harold because he is funny, cool, and you do not know what he will do next.
My favorite part in the book was when George and Harold did the Squishies. It was funny when he pushed on the toilet seat that had ketchup under it and then the ketchup exploded.
I recommend this book to people who like lots of action books and funny books. I would recommend this book to second and third graders.