The Journal of Scott Pendleton Collins: A WWII Soldier
Written by Walter Dean Myers
Reviewed by Tyler D (age 10)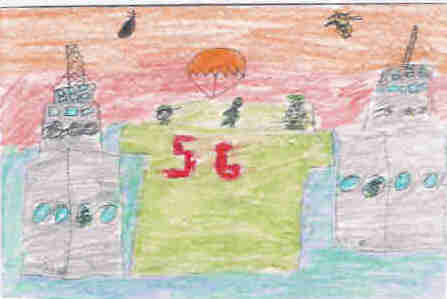 Boom! Boom! Bang! Scott was storming in, bullets were whistling overhead! This book was about Scott and his friend, Bobby Joe, who were fighting in WWII. Scott and his friend stayed together and didn't get hurt while they were running from Adolph Hitler. Bobby Joe and Scott were just trying to stay alive and defend themselves by firing their M1's in every direction. There are no chapters, just dates. This is a journal of what was happening right then and there. Read to find out more.
This book reminded me of my great grandpa who was in World War II. He told me almost the whole story of how he sent in the B52 bombers and P51D Mustangs to help the US troops. My grandpa was based close to where Scott was based and it sounded like it was the same environment with the Germans all around. I liked this book because it gave me a picture in my head of what was going on as they stormed in and tried to save the POWs. (Oh yeah there are no pictures.) When I read this book I felt like I was really fighting against the Germans myself. This was just a great book!
I recommend the journal of Scott Pendleton Collins to people who are interested in what happen in Normandy, France 1944. The other people I recommend it to are people who are interested in war. This is for all ages.