How to Make Four Million Dollars by Next Thursday
Written by Stephen Manes
Reviewed by Clari V. (age 10)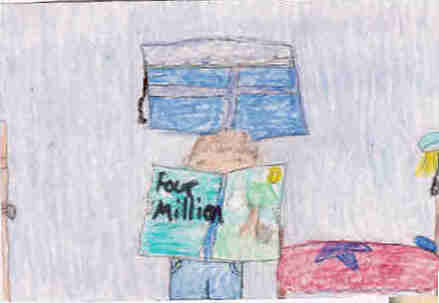 "I need four million dollars, I need four million dollars!!
This book is about a boy who finds a book called How to Make Four Million Dollars by Next Thursday. The boy tried to do whatever it took to get the millions. With all the work he had done, he hadn't earned a single penny! He wasn't about to give up just yet. After all, the book's method came with a money back guarantee.
I liked this book because it was very funny when the boy tried to get adopted by one rich family down the street and...well, did it work? This book reminded me of when I planted a strawberry plant and I wanted to grow lots of strawberries, but it didn't grow, it died. My favorite part was when the boy goes to school with dollar signs taped all over his body. Everyone laughed in the book, which also made me laugh, too. The character in the book reminds me of me because I always want money.
I recommend this book to someone who likes humor and surprises because of all the twist and turns.