Afternoon on the Amazon
Written by Mary Pope Osborne
Reviewed by Erika G. (age 9)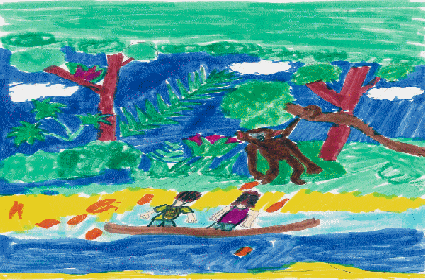 This book is about two kids, Annie and Jack, who found a magic tree house. There also was a sorcerer named Morgan. She had magic books and when the kids pointed to a picture in the book and said, "I wish I was there", they would be there. The problem is that they can't find what they're looking for, which was a mango.
They learned that just because somebody doesn't look like you and talk like you doesn't mean they can't help you.
I like this book because the two kids always have to get stuff and it always makes me want to know what's next. My favorite part was when Annie saw a baby cheetah and then the mommy cheetah came up and was about to jump on them. The monkey distracted the cheetah and then Annie and Jack ran back to the tree house.
I liked the character named Annie because she always does stuff before thinking. This book reminds me of Sunset of the Sabertooth because they have most of the same characters.
I recommend this book to kids in first to third grade. I recommend this book to people who like adventure books.