Bridge to Terabithia
Written by Katherine Paterson
Illustrated by Donna Diamond
Reviewed by Katie F. (age 10)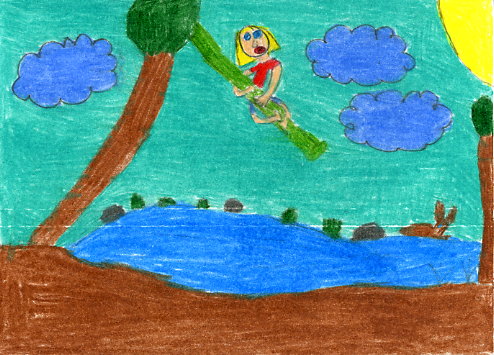 Two young kids trapped in a ditch with water running quickly beside them...this is what two kids experience in a book called Bridge to Terabithia. This book is about two kids, who find a forest and make it their palace. The boy is the king of that forest. What's nice is that no one knows about the kids' palace that they called Terabithia. The bad part is that they need to cross a very dangerous river on vines to get there. Katherine Paterson teaches you how to make a great friend. She also makes it clear that you can have fun, but you need to be safe too.
My favorite part of the story is when the kids are trapped and can't get out of the ditch. It was exciting and scary at the same time. I thought the girl was the most interesting character because she was very brave. Not many girls are as brave she was. Bridge to Terabithia is special because the entire story takes place in a forest that the kids call Terabithia. To me, this book is similar to a book called Ruby Holler. Both books take place in interesting places.
You will love reading Bridge to Terabithia if you like adventure because this book is non-stop adventure. All ages will like this book if they love adventure. If you're older, you will understand how scary being trapped would be. If you're younger, you will like the palace and what the kids do there. I would recommend this book because it will make you feel like you are in this forest playing with your best friend. Read the book to see how it ends. Don't forget to use your imagination and have fun with Bridge to Terabithia.