The Wanderer
Written by Sharon Creech
Reviewed by Kierra A. (age 10)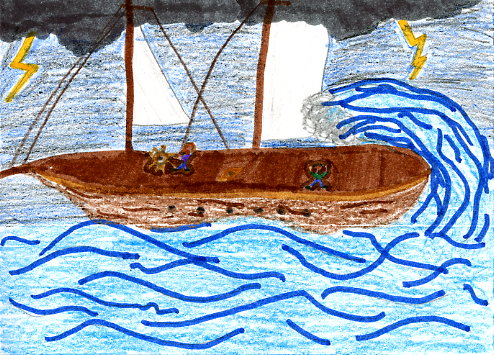 "Stupid Brian was blah-blah-blahing about points of sail, as if he knows everything there is to know about everything." This is one of Cody's comical journal entries, which you will discover in this book. Of course, Sophie (the main character) has her own journal entries too.
This story takes the reader across the Atlantic Ocean to Nova Scotia on a boat called the WANDERER. The main story line is, Sophie remembering her past. It all begins with Sophie going on a voyage with her three uncles and her two cousins: Uncle Dock, Uncle Mo, Uncle Stew, her cousin Brian, and favorite cousin Cody, (Sophie enjoys Cody's sense of humor). On her voyage she experiences lots of new, exciting things. For example: almost getting killed in a violent storm, exploring a haunted island, and meeting new people along the way. Once Sophie gets to Bompie's, her grandfather house, she tells Bompie all of his life stories. I know that sounds confusing, BUT Bompie sent all of his life stories in a book to Sophie. Sophie retells the stories to her sick grandfather in hopes that the stories will help his memory and health.
I believe Sharon Creech's hidden message in this story is love. Sophie wants everyone to believe she loves her new family instead of her old. One reason that I was enchanted by this story is that Sophie reminds me of myself. She reminds me of myself since she is adventurous and MOST of the time proud to be who she is. If I were her, I would want to forget my past too.
There is something really unique about this book. Sophie's chapters have a readable, neat font but Cody's chapters are written in a whole different font, but still easy to read. I think Sharon Creech did that so you could tell which ones Sophie's and which ones Cody's. The chapters have titles and a picture at the beginning.
This is the absolute best book I have ever read! Anyone would like this book; even an adult would like to read it. In fact, I think they would love it. I especially recommend this book to anyone who loves the high seas and a true adventure.
What will happen to Sophie and her past? You'll have TO READ IT AND FIND OUT!