Arthur's Computer Disaster
Written by Marc Brown
Illustrated by Marc Brown
Reviewed by Adonis S. (age 9), Jancarlos P. (age 10)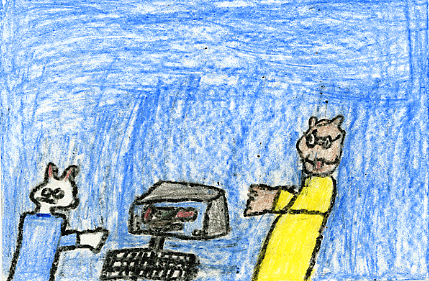 Arthur's Computer Disaster is about Arthur and his friend Buster who comes over to play. Arthur's mom tells them they can't play on the computer. Suddenly the phone rings! Arthur's mom had to go to the office. Mom reminded them that they could not play on the computer. Arthur does not listen to his mom and Arthur thought he broke the computer!
We liked the part when Arthur's mom fixed the computer. We also liked the part when D.W. was exaggerating that her mom was going to lose her job and she was thinking that they were going to now live on the street. The pictures in this story are outstanding and they make you feel happy. When we read this book it reminded us of Adonis' little brother who doesn't listen to anybody at all!
We recommend this book to kids that like to watch the Arthur show and to elementary school children that enjoy learning many lessons through Arthur, his friends and his family.