Arthur's Computer Disaster
Written by Marc Brown
Illustrated by Marc Brown
Reviewed by Aleksy S. (age 9), Leslie G. (age 8)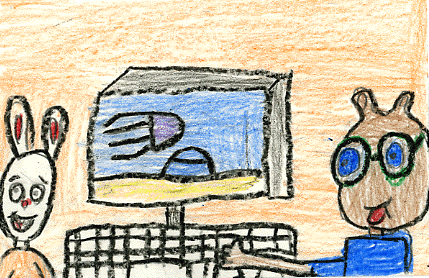 Arthur's Computer Disaster is about Arthur and his friend Buster who came to his house. They wanted to play the game Deep Dark Sea. His mom said not to touch the computer because she needed it for her work. Arthur did not listen and thought he broke the computer. Arthur was very upset.
We liked the story because it teaches you a lesson. We liked it because it will help children to understand not to touch things when their parents say not to. We thought it was funny when D.W. told Arthur he was in trouble. We thought it was humorous because she always wants everyone to get into trouble. We liked D.W. because she thinks she is a queen. We also enjoyed the illustrations because they were colorful and alive.
We recommend this book to students that like to read books about Arthur. We think children that have computers should read this book too.