Journey to the River Sea
Written by Eva Ibbotson
Reviewed by Kelsey S. (age 10)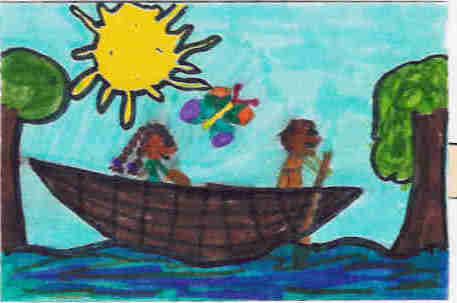 "Fear is the cause of all evil", Maia thought, but she was still afraid." This book is about a kind girl named Maia who goes to her mean, money taking aunt, uncle, and set of twin cousins. The aunt hates bugs and germs, the uncle never pays debts and looks at glass eyes, and the cousins are mean, sour skittles. Maia is pulled into an adventure including a lost inheritance and a mysterious Indian boy. Read the book to see if Maia ever solves the mystery and gets away from her miserable aunt and uncle's house in Brazil!
I like Maia because she was always kind and helpful; she befriends the Indians and learns to love her uptight, mother-like governess named Ms. Minton. Maia reminds me of me because she is musical, funny, and likes to be a friend! I like this book because it is adventurous, humorous, and I could not put it down. The uniqueness of this book is shown by telling people not to just care about themselves. As I was reading I came across the phrase "fear is the cause of all evil". It made me feel good and I realized that that was true. I like this phrase and would like to use it.
I recommend this book to people who like adventure stories and good books because the plot makes you want to read more and the story never lets you go. At the end you might even want to read it again. The author shows excellent style with this fiction book, it has a great setting and very interesting characters! Have fun when you read Journey to the River Sea!