Pokemon - I Choose You!
Written by Tracey West
Reviewed by Nathan B. (age 9)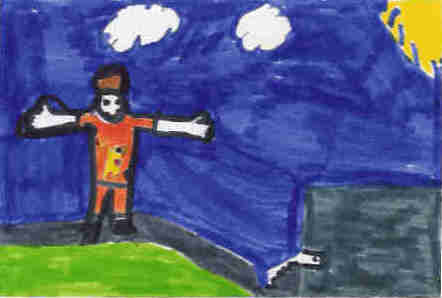 "Oops I forgot to get dressed." Ash runs to Professor Oak's laboratory. He got a new poke'mon because he got to Professor Oak's laboratory in time. Professor Oaks asked, "Ash are you ready yet, for a new poke'mon? Ash said, "Yes." Ash went to Pallet Town to battle Surge the gym leader. Ash lost the first battle. Professor Oak said, "I think you are ready for bed." Ash ran back to his house and got dressed. If you want to know the rest you have to read the book.
I liked the book because one character reminded me of myself when we went traveling to Minnesota. It felt like I was on a mission, like Ash. The illustrations were good in two ways, one way was when Tracy West made the sky and the ground meet. Another way, is when Tracy West put in a lot of detail. I liked Brock and Misty because they pitched in to buy a Poke ball for Ash. He didn't have one. I thought that was nice because the first book in the series didn't have any nice characters.
I recommend this book to everyone who likes to get surprised or scared. Sometimes books scare me and this one did when they were stealing Poke'mans. Maybe it will scare you, too.