Skeleton Man
Written by Joseph Bruchac
Illustrated by Joseph Bruchac
Reviewed by Katie M. (age 11)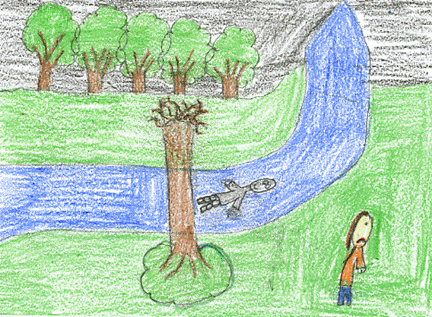 It has been seven days and my parents are still gone! The noises started to take over the house four days ago. I am lonely and scared.
Molly is living by herself. Her parents went out to eat and never came back. A man who was supposed to be her uncle came to the police station to claim Molly. He looked like the man in her Dad's stories about "Skeleton Man". Every night the man, who claims to be her uncle, locks Molly in her room and has video cameras taping her every move. Molly's teacher Ms Shabbas is on her side. Ms. Shabbas agrees that the man really is not Molly's uncle. So Ms. Shabbas offers to take Molly to live with her if she gets proof that the man really is not her uncle. Molly has to figure out where her parents are and who the man is. She starts to have dreams about a bunny telling her what to do. Are these dreams going to help her solve the mystery and get away from this man?
I thought this book was exciting because you never knew what was going to happen next. I also like it because sometimes it was frightening and it seemed like Molly was living in a big nightmare. My favorite part of this book was when Molly found cameras taping her, and found pictures of her parents tied up with string and duck tape over their mouths. Skeleton Man, himself, is interesting because you can see right through his skin and see his bones. I thought this was weird. It added to the suspense.
I recommend this book because it is very suspenseful and exciting. I would recommend this book to 4th grade and up. I also would recommend this book to anyone who likes scary books because sometimes Molly is in a life and death situation!