Beast from the East
Written by R. L. Stine
Reviewed by Tori L. (age 8)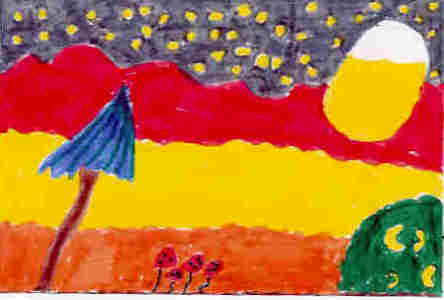 We're lost!" This is a story about three kids that go camping. They get lost and keep walking. They come to a weird part of the woods. There are yellow gourds, the trees are tall, and look like umbrellas. Then a beast jumps out and says, "Tag, you're it". Now they have to play a game against the beast. That's all I can tell you right now.
I love this book because I know how it feels to be lost. I got lost in the store and I was scared. The kids in the book got scared when they got lost in the woods. My favorite part was when they kept on saying, "This is your fault, you're the one who got us lost." It was funny because they kept pushing each other on the trail and blaming each other. I was surprised when the Beast said, "Tag, you're it." I didn't think a Beast would do that, I thought he would roar. This book is part of the Goosebumps series.
I'd recommend this book to people that like to be excited, scared, and surprised because this book leaves you hanging at each page. I wouldn't recommend this book to young kids. They might get scared.