Tough to Tackle
Written by Matt Christopher
Illustrated by Harvey Kidder
Reviewed by Charles H. (age 9)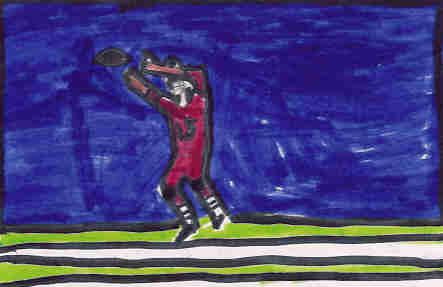 "Ten hut!" This is a story about a boy named Boots Raymond. Boots wants to be quarterback for the Apollo's. But because of his size, the coach assigns him to a tackle position. Boots rebels and almost quits the team. His brother Tom intercepts the ball and teaches Boots a lesson he learned when he was a soldier.
I think this is a good book because I like football, and this is a football story. I liked the part where Tom intercepted the ball and made a touchdown. My favorite part is when the coach tells Boots he cannot be a quarterback for the Apollo's. He's telling Boots that he is the wrong size to be a quarterback. I also liked the part when Tom left a letter on the table telling his parents and Boots that he would be back soon. I like writing letters and when he left that letter, it made me think about writing letters to someone, too.
I recommend this book to people that like football. If you like sports like football, this is the story for you. There's a lot of cool stuff.