The Amazing Days of Abby Hayes- Every Cloud Has a Silver Lining
Written by Anne Mazer
Reviewed by Austen G-K (age 9)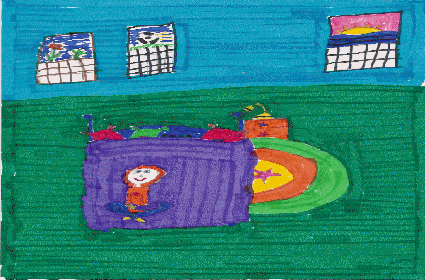 Abby Hayes is a kid in fifth grade. She always thinks she doesn't have anything special about herself. Abby is always comparing herself to her supersibs (super siblings) Eva and Isabel. Abby loves purple she also writes in her journal with a purple pen. Abby wants to become a soccer star. Read the book to find out if Abby does become a soccer star.
My two favorite parts are when Abby writes in her journal with her purple pen becasue it is realistic. I also liked the ending when she scored a lot of points in a soccer game because she didn't do that very often.
I love the illustrations in the book. I like how they were drawn in purple because that's Abby's favorite color. I also liked them because it really looks like what Abby would look like to me.
I felt worried when I read the book. I worried that Abby wouldn't really get to be such a good soccer player. I also felt proud when she did.
I was really proud of her when she had her writing in the newspaper. I also felt happy that she kept a journal because I like them too.
I recommend this book for first graders to fifth grader. I also think kindergarteners would like it if somebody read it to them. It is especially good for people who were having a hard time with soccer, but can do it now.